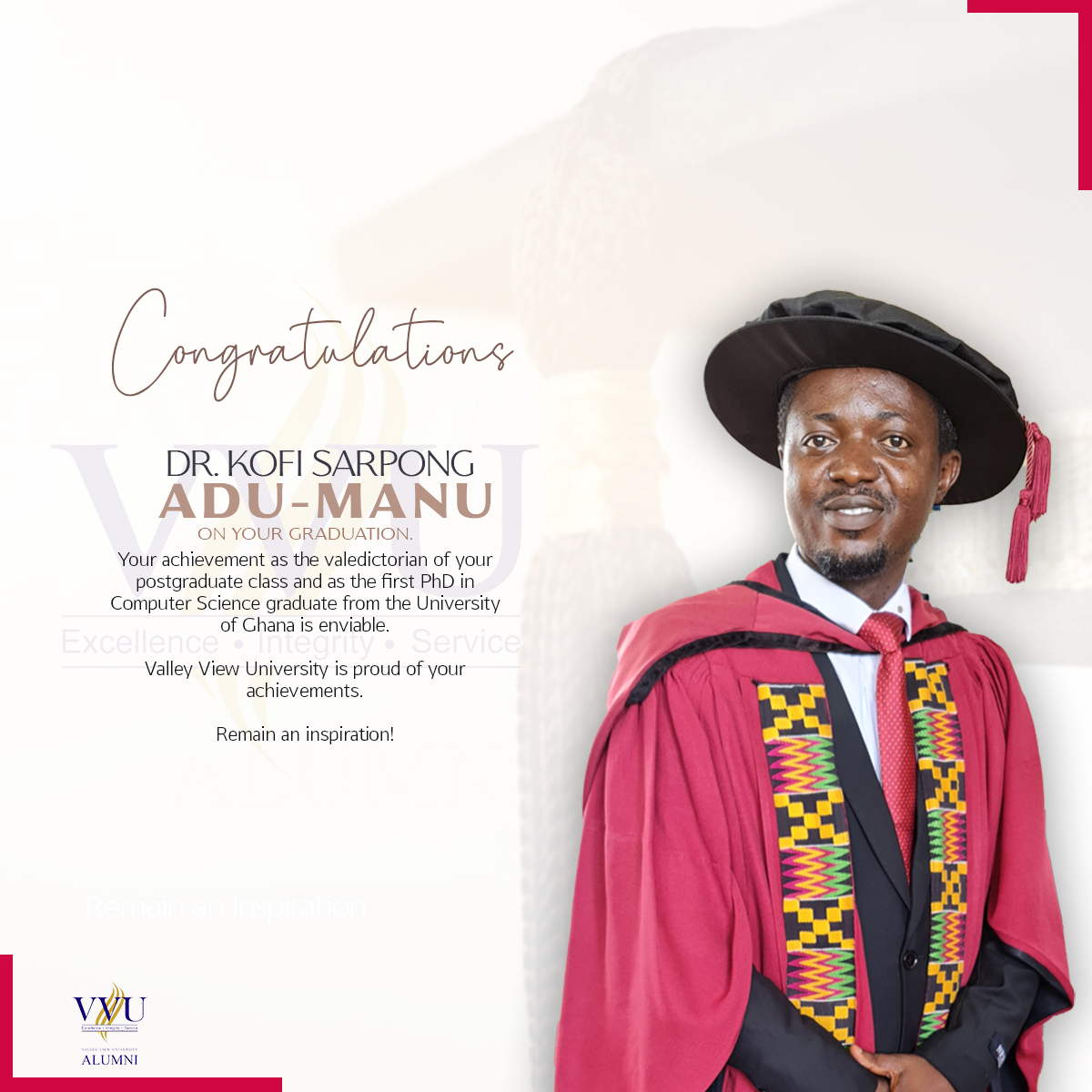 Profile of
Kofi Sarpong Adu-Manu
Kofi Sarpong Adu-Manu completed Prempeh College, Kumasi-Ghana, in 2002 as a Science student. He received his Bachelor of Science (BSc) degree in Computer Science with First Class Honours from Valley View University, Oyibi-Accra, Ghana, in 2007, Master of Philosophy (MPhil) degree in Computer Science from Kwame Nkrumah University of Science and Technology (KNUST), Kumasi, Ghana, in 2013 and PhD in Computer Science from University of Ghana, Legon-Accra, in 2020. Kofi was the first to graduate with PhD in Computer Science from the University of Ghana and was the Valedictorian of the graduating class.
He joined the Department of Computer Science, Valley View University (VVU) in 2008 and has risen through the ranks from Teaching Assistant, Senior Research Assistant, Assistant Lecturer, Lecturer, and currently a Senior Lecturer. He served as the Head of Department of the Information Technology Department at VVU from October 2019 till October 2020 and he is currently serving as the Dean of the Faculty of Science. 
Kofi is a member of IEEE, ACM and serves as a Board Member of the Clute Institute, USA. His current research interests include Wireless Sensor Networks for environmental monitoring applications, Cloud computing, Applications of IT in Education and Society, Data Warehousing, Data Cleansing, and Programming. Kofi has published twenty (20) articles in high-ranking journals, two (2) book chapters, and three (3) conference papers which have attracted a good number of citations. Kofi has attended conferences locally and internationally and served as Session Chair at these conferences. He serves as a Reviewer for
ACM Transactions on Sensor Networks (TOSN), International Journal of Sensors, Wireless Communications and Control and many others.
He was one of the recipients of University of Rochester (UoR) PhD scholarship awardees in 2015 to study in UoR. He also received a research grant from the Carnegie Corporation of New York through the University of Ghana to support early-career faculty research capacity development under its "Building a New Generation of Academics – BANGA Africa project". He was also one of the University of Oldenburg and University of Ghana partnership project known as the DEMIS mobility programme researcher.
Kofi is a selfless leader, an inspiration to his colleagues and a mentor to many youths. He is hardworking with a high sense of integrity, and at leisure, he surfs the Internet, watches movies and dances.