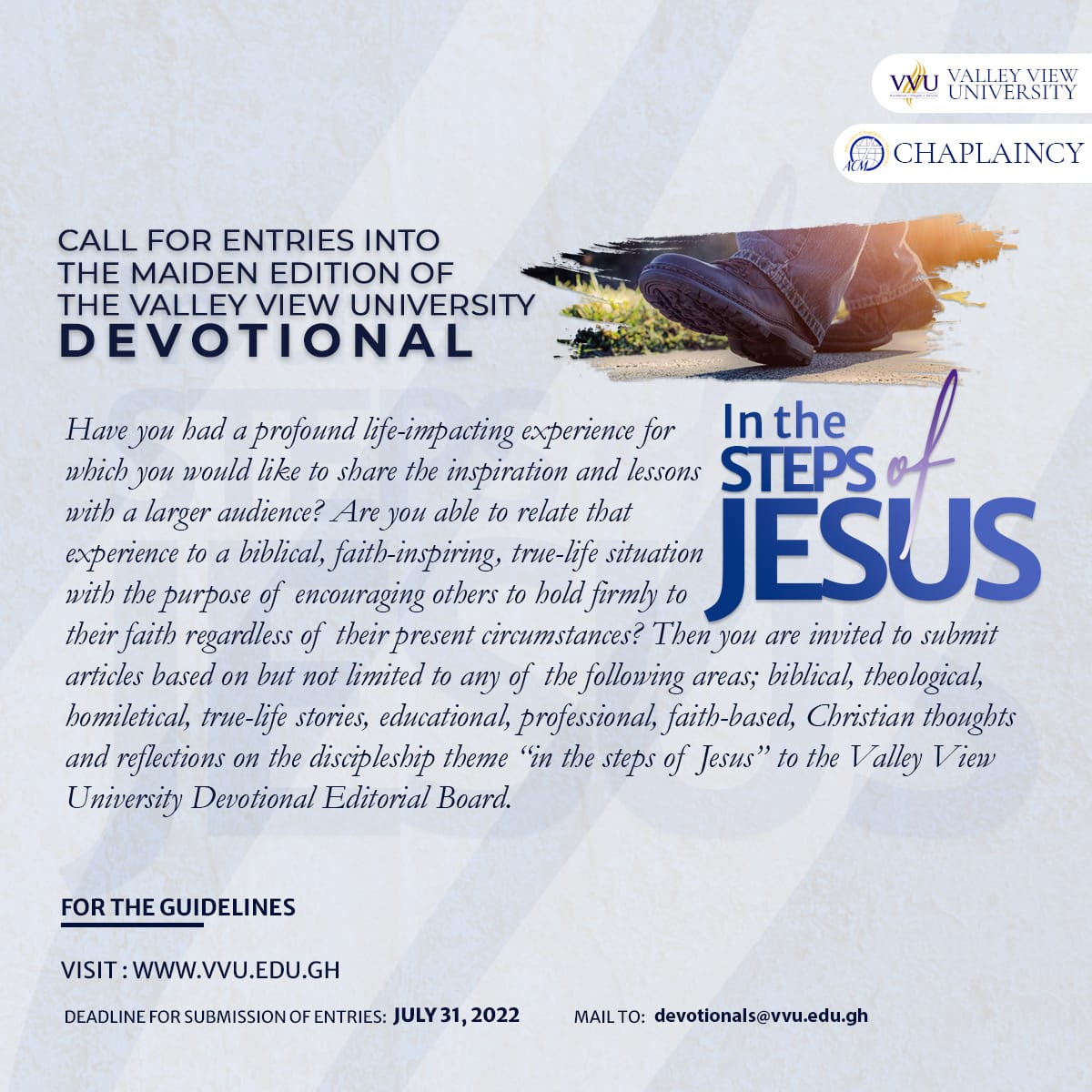 CALL FOR ENTRIES INTO THE MAIDEN EDITION OF THE VALLEY VIEW UNIVERSITY DEVOTIONAL
Dear friend,
Have you had a profound life-impacting experience for which you would like to share the inspiration and lessons with a larger audience?
Are you able to relate that experience to a biblical, faith-inspiring, true-life situation with the purpose of encouraging others to hold firmly to their faith regardless of their present circumstances?
Then you are invited to submit articles based on but not limited to any of the following areas; biblical, theological, homiletical, true-life stories, educational, professional, faith-based, Christian thoughts and reflections on the discipleship theme "In The Steps Of Jesus" to the Valley View University Devotional Editorial Board as follows:
Theme: IN THE STEPS OF JESUS
Deadline for submission of entries: July 31, 2022
Email: [email protected]
Guidelines for Submission of Entries
All entries must be based on sound biblical teachings
Each entry must have a clear, precise and Reflective topic woven around the theme
Each entry must bear the full name, designation, address and contact details of the contributor
Each entry must be written in English, using single spacing in Times New Roman font size 12.
Each entry should be between 250 and 350 words long. Individuals may submit multiple entries
Contributors must ensure that their articles are original. References to other people's works and thoughts must be duly acknowledged.
Articles must follow the 7th edition of APA referencing style.
All entries would be subject to the review of the Editorial Board which shall determine its acceptance and subsequent publication in the Devotional or otherwise.  Authors shall be notified of either outcome and all necessary agreements reached before publication.
Thank you!