Profile of the Registrar

A product of Andrews University (Newbold Campus), Kumasi Academy and Ohwim Local Authority Middle School, Pastor Odomse Akuoko-Nyantakyi is the Registrar of Valley View University. Along with his administrative responsibilities, he is currently pursuing a PhD in Educational Administration at the University of East Africa, Baraton.
Before his appointment as Registrar, he served as a Deputy Registrar Human Resources Management in 2015 and Acting Registrar of Valley View University for one and a half years (2014-2015).  He has also been instrumental in maintaining efficient quality service delivery and records of integrity in the Academic Registry of Valley View University. Quite remarkable was his initiative of enrolment drive, which resulted in a consistently increasing trend in enrolment from 2007 to 2014. His commitment and dint of hard work earned him the award of an Outstanding Senior Member in the 2009/2010 academic year.
Pastor Akuoko-Nyantakyi has a track record as a good administrator in the establishment of Adventist Senior High School, which metamorphosed into Adventist Girls Senior High School in 2005. There he served as Headmaster and Chaplain while pastoring Bohyen SDA Church. With the support of the Church leadership and divine enabling, he planted the Abrepo SDA Church, Abrepo Ashanti, in 2002. He was instrumental in the establishment of Abrepo Adventist Preparatory School.
Characteristic of the leadership style of Pastor Akuoko-Nyantakyi is his trust and dependence on divine empowerment, teamwork, selfless service and a sense of aesthetics. In addition to his organizational commitment, Pastor Akuoko-Nyantakyi supports campus ministry and plays an active role in the Ministerial Association of Valley View University. He was appointed the Ministerial Secretary in 2015.
At the core of his ministry is his passion for elevating the ethos of Adventist Education through orientation, counselling, mentoring and exemplary life. Passionate about unity in Church leadership and administration, he was inspired in 2016 to author the book, United Leadership Ministry: The Perfect Intersection.
Ps. Odomse Akuoko-Nyantakyi is married to Georgina Akuoko-Nyantakyi with two sons; Gyamfi and Prempeh.
The Registrar's mantra:
"Education devoid of Godliness makes the learner an academic guru but a spiritual dwarf"

"All your children shall be taught by the Lord and great shall be the peace of your In righteousness you shall be established" (Isaiah 54:13, 14).

Christian Education offers you the best! Valley View University is committed and passionate to fulfill this invaluable need. Enroll with us now for a wholistic and value-based Christian Education. Your future will be a blessing!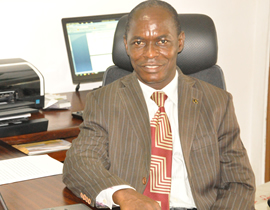 Pr. Odomse Akuoko-Nyantakyi
YOUR FIRST POINT OF CONTACT
Detailed information, and forms can be mailed to you upon request.
Dear Prospective Applicant, you can send us your details and we will make application forms available to you, or help you through the application process.
REQUEST INFORMATION