Profile of Emmanuel B. Amponsah, PhD
Emmanuel B. Amponsah started teaching with the Ghana Education Service in 1986 and joined the Valley View University (VVU) faculty in 2006 from the South-Central Ghana Conference of Seventh-day Adventists where he served successfully as a pastor, accountant, assistant treasurer, business manager and teacher. He functioned as the Head of Business Department at Bekwai SDA and Kenyasi SDA Secondary Schools from 1997 to 2006.
Prof. Amponsah (affectionately called EB) holds a 3-Year Teacher's Certificate 'A', Bachelor of Arts (Religion/Business Administration) cum laude, Diploma in Data Processing (Computer Science – postgraduate), Master of Philosophy (Accounting), and Doctor of Philosophy in Business Administration (Management Accounting). He has 9 enviable academic awards, bagging 5 of them on a single graduation day.
After having served as the first substantive Coordinator of VVU's Bachelor of Business Administration (Accounting), Prof. EB headed the same department for 5 years between 2010 and early 2016. He's been with the Chartered Institute of Management Accountants (UK & Ghana) and the Institute of Chartered Accountants, Ghana since 2002, and was very instrumental in VVU's introduction of professional accounting courses (ICAG & ACCA). He also served as the first Vice Dean of the Business School. He joined the University Administration on February 1, 2016 as the Acting Rector of the Kumasi Campus where he is now the Rector. He was the Chairman of the Founding Committee of the Ghana Association of Accounting and Finance Educators and currently its Organizing Secretary.
Areas he has mostly researched, published and presented papers locally and internationally include Accounting Ethics, Accounting, Financial Management, Strategic Management, Personal Finance, Education, and as a credentialed minister, Religion. He is an adjunct lecturer to 4 local universities and international (postgraduate) universities, editor of 2 refereed journals, and external research supervisor to a number of universities home and abroad. He is an ardent curriculum planner and reviewer and writer of research writing guides for students at all levels. He has chaired several international academic research conference sessions.
Prof. EB is a gifted resource person, very meticulous moderator and proof-reader of academic documents and is noted for his ability to successfully teach broad-minded and seemingly outlandish courses such as Creativity and Innovation, Personal Finance, Business Creation, Job Search Strategies and Techniques, Strategies for Making the Best Grades, Proposal Writing for Grants, etc.
As an academic pillar and a successful fundraiser, Prof. E. B. Amponsah has netted hundreds of thousands of cedis in assets for his University. Because of his accomplishments, competencies, tenacity and integrity, he has chaired some of the most crucial and contentious University committees such as the Ventures Task Force, Fees Review, Salary Review, and Code of Conduct Committees.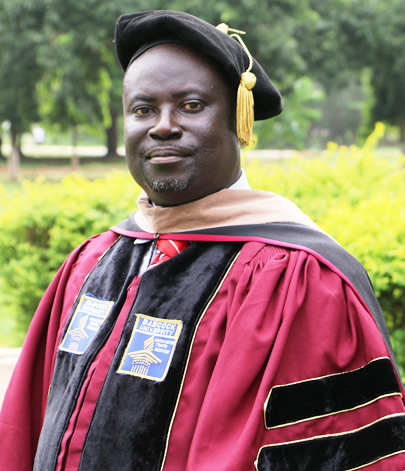 Emmanuel B. Amponsah, PhD
ASSOCIATE PROFESSOR OF ACCOUNTING
Research Interests
Accounting Ethics
Management Accounting
Financial Accounting
Forensic Accounting
Financial Management
Personal Finance
Strategic Management
Religion
Higher Education
Microcomputer Applications