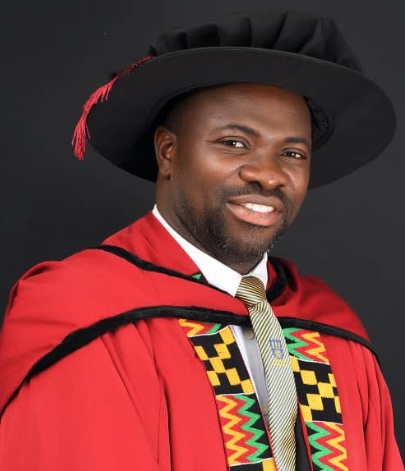 Winfred Ofoe Larkotey, PhD
Research Interests
Digital Government
Mobile Platforms
Human-Computer Interaction
Profile of Winfred Ofoe Larkotey, PhD
Winfred Ofoe Larkotey, PhD, is an enthusiastic information systems Specialist and a Senior Lecturer with nine years experience in consulting and training young minds on the development and use of technology. He holds a Bachelor of Science in Computer Science from Valley View University, Masters, and PhD in Information Systems from the University of Ghana. He has been a faculty member with Valley View University since January 2012. Prior to that, Winfred worked as a developer at the Société Générale Bank Head Office. In 2017, Winfred was appointed as the Vice Rector for the Kumasi campus of Valley View University where he served for two years. He was later appointed as the Director, Information Technology Services for Valley View University with his office based in Oyibi, Accra from October 2019 to January 31, 2021. Currently, Dr Larkotey is the Rector of the Valley View University, Kumasi Campus, an appointment that started in February 2021.
Winfred's research areas are in digital government, mobile platforms and human-computer interaction with special emphasis on government services digitalization. In the past few years, Winfred has served as a Reviewer for several journals and conference papers in the Information Systems discipline. He has also served as an external examiner for the promotion of faculty members from sister universities. Winfred teaches Information Systems and other Computer-related courses both at the undergraduate and graduate levels. He enjoys training young minds and has therefore been invited to train a number of administrators on how to use technology to influence business strategies leading to competitive advantage.
Dr Larkotey is a proud member of the Association of Information Systems which is a global association of information systems experts and the United Kingdom Association of Information Systems. He loves to solve puzzles, listen to music, develop technology-related strategies, stir and encourage young minds, travel, and help people in need.
Winfred is inspired by this quote of Madam Theresa, "I am a little pencil in God's hands. He does the thinking. He does the writing. He does everything and sometimes it is really hard because it is a broken pencil and He has to sharpen it a little more".
Check my LinkedIn Profile: https://www.linkedin.com/in/winfred-ofoe-larkotey-phd-3167624a/