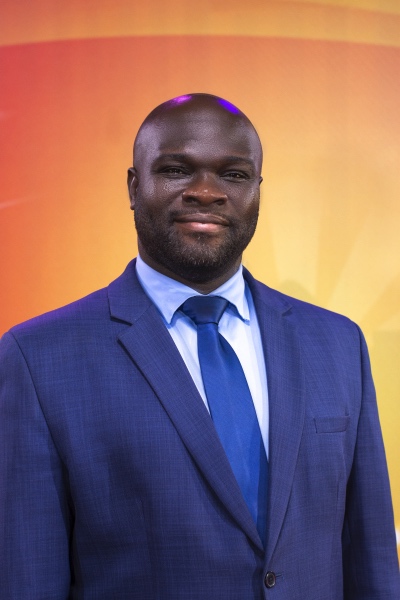 Profile of
Pastor Nana Kofi Nimako
Pastor Nana Kofi Nimako is an ordained minister, an endorsed Chaplain and a certified Counsellor with the Southern Ghana Union Conference of SDA. Currently, he serves as Public Campus Ministries, Adventist Chaplaincy Ministries and Counselling Director of the Union. He has served the Church for 12 years. Before his appointment at the Union, he had worked as a district Pastor for the Tarkwa West/East and Kikam districts, and also served as the Executive Secretary for the South-west Ghana Conference of SDA. He had also served as a Chaplain and part time tutor at the SDA Nursing and Midwifery Training College (NMTC) at Asanta and Chaplain for the GNAAS fellowship of the University of Mines and Technology, Tarkwa.
Pastor Nana Nimako serves on several committees including: General Conference of SDA Executive Committee, USA ; Southern Ghana Union Conference of SDA Executive Committee, Accra; Professional Advisory Group, Babcock Center for Clinical Pastoral Education and Chaplaincy Services (BCCPE and CS); and DEQ Change Foundation Board.
As the first of six siblings, he had his basic school education at University of Mines and Technology basic school in Tarkwa and attended Adisadel College in Cape Coast for his secondary education. He then attended the SDA Teacher Training College, Asanta and later attained his BA in Theological Studies degree from Valley View University, where he was an SRC President. He also holds a MA in Guidance and Counselling degree from the University of Cape Coast and a Master of Chaplaincy degree from the Adventist University of Africa, Kenya. He is currently enrolled in the Clinical Pastoral Education (CPE) program with The College of Pastoral Supervision and Psychotherapy (CPSP) - USA. He also holds a Neuro-led Leader certificate from Forge Ahead Couseil and Coaching, from Paris –France and is a member of the Ghana Psychology Council and the Ghana Psychological Association.
Pastor Nana Nimako is married to Mrs. Eva Nimako and their union is blessed with 3 beautiful Children, Abena Akyeamaa Nimako, Nana Kwesi Nimako and Kwadwo Asnate Nimako. His favourite Bible quote is Hebrews 10:35-37 and his Favourite quote is "Deliberate Mediocrity is a sin" by Elton Trueblood.
At his leisure, Pastor Nana Nimako enjoys reading, basketball, soccer and lawn tennis.